One of my favorite lessons in class in nearly every year of my teaching from the Vienna days onward was to tempt the students to think of who they were in the context of their relationship to society. Each of us is an individual arriving in her own culture armed with the protection of parents and the assorted genetics to get us started, either a few rungs up the ladder of opportunity or a few rungs down based on how our DNA is configured in our mutant selves and also what our parents had accomplished prior to our births.
Our four selves: In the lesson about what that high school student thought of himself in the context of family, friends and other contemporaries with whom he came into contact in his community, I challenged them to think about how much nature and nurture were involved and why this conundrum follows mankind through all humanity's existence. Yet, each of us are benefitted with how our own culture's interpretation is thrust upon us at an early age to insist on defining our actions, while our own abilities to reason fights against this very existential eventuality. Some cave to societal pressure, while others resist, rebel or lead society in other directions of thinking and away from the conventions that impel most others to stay in line. In the lesson I suggested that each of us are four individuals in one and that we each only truly know three of ourselves.
We have two prsonal personae coming from us at we interact with our world, Number One is that which only we know in our minds, though sometimes we act on our impulses to exhibit actions that we only know about in private, letting a little of our private self out into the light of day. We may not admit to the motivation of the action, would never confess our thoughts, and often deny what some may perceive of us as untrue. Often, these ideas and actions may only be struggled with, sometimes for a lifetime, solo. Number Two is the personal attempt by each of us to portray ourselves to the outside world. We might love it if our own image of ourselves matched exactly what everyone thought us to be, though that is rarely the case.Telling people what we actually think is something we weigh throughout our lives and the most important audience we have in that exercise are those closest to us with whom we come into contact most frequently. It is they who react to us, interact with us, give us our support, hear our jokes, endure our thoughts and opinions, and buy (or not) our bull. If we deliver bull, then we are not being honest, are we. How honest does society allow us to be? There are always those social conventions that confine us, sometimes leading us to little white lies, not being true to ourselves or others in many cases.
For most of us in our lifetimes that community probably doesn't exceed a couple thousand individuals, though many more thousands can have access to our public persona and can sometimes be exposed to our public expressions through our words or actions even though we may not have directed our actions specifically at them. The examples of road rage witnessed by another driver, or your opinion of a texting driver, seeing a person talking to herself, or witnessing an argument that has nothing to do with you, all give impressions that are sometimes incomplete. Some individuals garner more attention and a wider audience, and can both benefit and suffer the consequences of those public offerings. Think of Jimmy Carter's
famous admission that in his opinion he had sinned by thinking about other females in an "inappropriate" way, though he never acted upon it. It is strange in today's world of fake news, denials, #Metoo and all manner of individuals "coming out" with long held personal knowledge, to now look back at his interview in 1976  in Playboy of all places, Carter admitted that "I've looked on a lot of women with lust. I've committed adultery in my heart many times." He temporarily dropped fifteen points in polling for admitting in public what he thought in private (a process that was taught to him in his own culturally religious and moral world into which he was reborn as a Southern Baptist and remains so to this day). Juxtapose that with our own times, 42 years later, and it almost seems a comical assertion that shouldn't have been as provocative as it came out at that time from this gentleman of culture and community involvement. Today we are in the #Metoo moment for some males' actions that were in public, though the audience was usual one other person and the performance was too often a one way communication that had no opportunity for repudiation by her (or him). Those who are now in the crosshairs of public condemnation of the #Metoo thinking have always been there and are society's dilemma….what do we do about actions that only have two people in the community in which they occurred, when allegedly one person's private thoughts we thrust upon another.
Numbers Three and Four   That brings me to the other two personae we are, our public selves discussed by those who "know" us personally in some way. Number Three involves the ways we ourself "think and believe" how the public perceives us to be. We get public pronouncements in facial expressions, welcomed laughter, positive reinforcement for a statement made, comments, letters, thumbs up on Facebook, emails back, birthday wishes and all manner of displays showing us how others perceive us. At different times in our lives, the audience who gives back such information changes. Our parents are first and foremost the initiators of our image in the world to our mind, followed by siblings, then peers, then teachers, spouses, then other individuals with whom we identify and emulate their actions and ideas. This Third is the public persona we project to gain acceptance, to sell our thoughts and actions to gain some standing in society. There are many conventions in a wide variety of cultures that expect us to behave in a particular way and there are many forms of control that attempt to keep us in line with what society thinks at that time in history is proper and right (and in many societies there are different groups with which we identify that have more influence over us and some groups that we leave alone, even though we heartily disagree with their life paradigm).  Finally, all of us have that Number Four example. In Number Four we are perceived by our immediate outside, intimate and wider, world and we make an impression on someone, often in a way that they do not feel comfortable being honest about what they perceive of us. Usually, only part of that impression the world feels comfortable relating to us is sent back to us in some manner to tell us what they think of us. But, I would opine in this Fourth Case case that we often do not get to know what people fully think of us, as we may never know what is said about us between acquaintances of ours in private. Others may have and share comments on how we parent, interact with our spouses, comment about ghosts, talk about politics, slurp our food, rise to anger too easily, dress in public or feel about all manner of subjects, etc.
The #Metoo movement has formed because some individual male used his power to accost a female in an intimate public space that was unwanted and she had no way to influence effectively the advances made upon her space. I always told fourteen year old boys that I would give them each individual latitude to act in public in most instances, but would be very nervous if they had three other male fourteen year old friends accompanying them in their audience and egging them on in some adolescent ritual. Testosterone is its own personal projector. But, we hope we know what that persona is that we each project to the people around us in its entirety, even that that is seldom the case. Of course, when we are embarrassed or have time to reflect on how poorly a conversation went, when we lost it, rose in emotion, we may think we suffered a poor impression made. We usually want the public to like us, sometimes fear us, hopefully accept us, respect us or give us something…money, power, friendship, knowledge, affirmation, love or other things. We project that persona willingly in most cases and with premeditation. Sometimes we are spontaneous…or impaired, when we project an unacceptable action or utterance. The recipients of those public expressions will register them in their own minds, maybe even discuss them with friends and family, thereby establishing another persona representing the individual in a community in which you do not reside. These individuals talk about you and establish their own description of who you are. Historians have the charge of trying to extract any individual from the past based on whatever recorded evidence is available and offering the result of the research to the public to digest. How well this is presented determines whether that version is going to stick, as well as how on the mark it may be. Of course, later cultures may reinterpret, revise and decide differently about who this individual was based on the historical/cultural context of the time in which it was researched and reported. Also, what evidence the historian chooses to present in importance flavors the view we get of the historical figure. Human nature is such a wonderful entity, isn't it.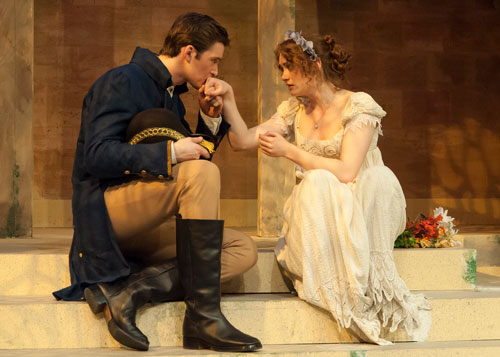 Shakespeare also thought of these four individuals and sometimes developed stories in his plays to explore from the audience's perspective how these four personae could be viewed. He might have several people on stage for the audience to view, during which the public actions of each actor was evident to all in the audience. For instance, in Much Ado About Nothing, when Claudio speaks to Benedick about his secret thoughts of love for Hero, Claudio is giving his trusted friend knowledge he fears no one else may understand. He hopes it is received well by his trusted friend. Benedick is his sounding board and he enters into the Third person persona to tell Claudio exactly what he thinks, a small sample of the public that Claudio hopes will be much wider in its acceptance of his love for Hero. Benedick, though, will had entered into the Fourth person persona in order to trick Claudio into going where his mind already was, even though he resisted the thoughts. It was in a "noting", a moment of gossip delivered about someone without his knowledge that the term "nothing" deals with in the title phrase.
In Shakespeare's time "nothing" would have been pronounced "noting" and what this meant is that you, the audience, were allowed to indulge in the actions of eavesdropping, of "noting" publicly what was going on between two people or more in their gossip, or just one individual alone with his or her thoughts on stage which were provided to you to give away this actor's private thoughts in his or her Jimmy Carter moments. Yet, Shakespeare in this play also took on that fourth dimension of the four individuals….what do the rest of them think of me? Yet, he twisted it in such a humorous way as to allow the audience in to show us that the actors who were to tell the individual what they thought of them knew that the object of their opinions was going to overhear their judgments, their "notings". The two most important recipients of these judgments, these lessons, were Beatrice and Benedick. As the play begins, the two are introduced as disliking each other from because of some undescribed past issue. These are two individuals who demonstrate they have purposely honed the public personae to show a brash and defensive nature, impervious to or in control of the intentions of the opposite gender towards them. Their bluster is publicly proclaimed throughout the introductions and deep into the play, only to be disarmed by their friends, who decide to enter into a ploy to disarm the two and get them to fall in love. The friends' on two separate encounters, one with Benedick and two of his male friends to Benedick (who is hiding in the garden, though the pair is fully aware of his presence, discussing how Beatrice loves Benedick) and the other with Beatrice and two of her female friends( again knowing of her presence within earshot of their discussion, where they comment on how Benedict loves Beatrice). From the moment each hears this about the other, the play shifts. We have that wonderful moment when the second persona we have, the one we know only to ourselves and do not project to the public, is put on full display to the audience when Beatrice has ten lines to think of what the future might be like with Benedick.
If you watch the recent PBS video presented by Helen Hunt in which she analyzes the methodology, narrative, morals, gender issues and opportunities found in the play to look at human nature, at the 28'30" portion of the video you can see an example of how Shakespeare dealt with that Number One type individual who only talks to herself about her true self's main beliefs, while keeping one's inner self secret from the world. This example from Much Ado About Nothing devises the theatrical technique of breaking through what is known as the Fourth Wall. Most theater and cinema presentations accept that the audience are voyeurs, sometimes let into the narrative in a way that even the characters in the story may not be aware. Most of the time it is understood that one never actually breaks that wall, does not look the audience in the eye. Artists, too, like Titian understood the concept. For instance, in Titian's Pesaro Altar in the Franciscan church in Venice, where he was commissioned by the family to paint a narrative that included the family, its triumphs and its commitment to the order and to the faith all in one, Titian paints the youngest male heir looking out into the audience, fully aware of its presence. Stunning.
In the Globe production, though, the Fourth Wall is breached in a special way as explained by Eve in the video. She knows she has only ten lines, alone on stage, to deliver her feelings and how they have now changed about Benedick. In those ten lines she admits the change, dreams of their future and commits to it. But, how does one make that profound change available to the audience and to demonstrate their import in more than delivering the lines? She was unsure until she caught the eye of one of the audience members, a young gal in the Groundlings at the front, next to the stage. At that moment the Fourth Wall was irrelevant, or perhaps more important in that it was going to be breached in this special way. Eve clasped hands with her partner now in delivering these lines and allows the audience in on her mind's ways in one of the most spectacular moments in theater, when an actor knows she figuratively, and literally in this case, touched the audience.
minute 24 for gulling scenes
minute 28:30 with Beatrice (Eve Best) breaking the 4th wall to speak of her 1st self to the audience
https://www.pbs.org/video/much-ado-about-nothing-fxcqme/