In exploring the world of 19th century London, and England, no journey of the mind is complete without a sojourn through the lives of a few dozen individuals who drew and painted scenes from Medieval English literature, paid homage to Shakespeare, loved the Gothic, Christian values, tales of the Knights and Damsels, wrote their own poetry and captured contemporary poets' works with their pencils, chalk, ink and paint. This was the Pre-Raphaelite Movement.
Were they rebels, embodying the words from the Tennyson poem about the Lady of Shallot?
Out flew the web and floated wide;
The mirror crack'd from side to side;
'The curse is come upon me,' cried
The Lady of Shalott.
This slideshow requires JavaScript.
Do all women obtain a curse by looking outside the mirror given them by society? They have been trying to look at the real world for millennia. These sisters of the Pre-Raphaelite Brotherhood are a part of that effort….
Much, a great majority, of the men's work in the PRB featured women. For them the "look" was a particular one. Beauty, mystery, shocking hair…preferably auburn, distinctive facial features and a long-waisted demeanor were the favorite choices. The ladies often became involved in a much deeper way with their vocation, sometimes becoming the lovers or even wives of the artists. Some became accomplished artists on their own merit. Many rose from poor or modest backgrounds, but the meritocratic approach the movement praised allowed the engaged female to succeed in aesthetics, business, writing, politics and more if they so chose. Many of the women were forces of nature, which they felt was a God-given beauty that needed to be represented unembellished and honestly. All have become immortalized on the canvases and paper on which their images were portrayed, often by these women themselves. That there were women of conscience, ones who fought for equality in voting and pay, sought to compete alongside the men on equal terms in their work as artists, were sire
If we build on the images, from poetry and painting, of the Lady of Shallot, and look at William Holman Hunt's use of the theme, a rare one for the PRB as it portrays the theme in a contemporary setting, in his painting, The Awakening Conscience. (above) This video clip does a great analysis of all its meanings and symbolism. It is a kept woman, with a gentleman from a class above her a metaphor for society. She has probably come from a poor standing, much as the model, Annie Miller, had. The mirror is emblematic of the theme in the Lady of Shallot, as well as a nod to the Arnolfini Wedding by Van Eyck. The newness of all the purchased items in the room, the theme of the music the man is playing (the sheet music to Thomas Moore's Oft in the Stilly Night reminds her of her country background), the cat playing with the distressed bird under the table, the single glove symbolizing the probability that she will soon be discarded, all are conditions on the move, transcending and troubling. How will it turn out for her? For Annie and Hunt, not so well. Though he was in love with her, his need to be true to nature took him to Palestine for two years and this extended absence seems to have given Annie other options. Even though he offered her an abbreviated list of artists for whom she could sit, she wandered onto other artists' easels, among them the likes of Dante Rossetti, and Hunt was left behind. He will repaint the face in this painting, another symbolic discarding of a woman.
At this moment in London (ending early in 2020), the National Portrait Gallery is mounting a show to honor the Sisters of the Pre-Raphaelite Movement. This blog will allow you to make the visit from your armchair, with each of the representative works and an explanation as to its provenance and importance to accompany the work. It complements the two other blogs, one on William Morris and his provocative life, and another on the Pre-Raphaelite Movement in the context of 19th industrialism and the building of empire that was then occurring in British history. In this blog, there are many sources. Some are academic, like the ones related to the recent research and publications from Jan Marsh, curator of the Portrait Gallery. It was she who suggested the Gallery focus on the females for the Gallery's first ever show on the Pre-Raphaelites. Others are from academic sources or from dedicated bloggers who often find intriguing facts even if sometimes you must step over errors.
The women who became involved with the PRB came from many backgrounds, but the ideas they shared, especially the approaches they took to gender issues, opened society's eyes to positions that pushed thinking in new directions. The poetry written, the political actions taken, the discussions they surely had over a tea or something stronger, and the way they each dealt with sex and gender varied greatly. By no means was there unison on these ideas. Sometimes they shared lovers, a few of them suffered from depression, yet each grew from the person they were before meeting the men and women of the PRB into a different force in society. There is no denying this group experimented with options in a way that was not in keeping with the typical Victorian approach. What found its way to the progressive and conservative press records the impact the ladies of the PRB had on Britain's world. They moved the moral and aesthetic needles in a way that created change…and some controversy along the way.
The exhibition at the Portrait Gallery features twelve women; Joanna Wells, Fanny Cornforth, Marie Spartali Stillman, Evelyn de Morgan, Christina Rossetti, Georgiana Burne-Jones, Effie Millais, Elizabeth Siddal, Maria Zambaco, Jane Morris, Annie Miller, Fanny Eaton. The cross section they have chosen is an excellent one to explore the movement, the times, what they accomplished, some of what happened to them or how they managed the experiences in life dealt to them, and allows us to see how much a part of this movement they were. That they were able to get a public exhibition of their works is statement to the acceptance England was willing to give to women. Not many societies in the world in the 19th century were willing to allow so much public display for the female perspective. That there was controversy in doing so was certain. The group would  offer alternatives radically different from Victorian mores and attitudes into the psychological, sexual, and artistic audacity that would characterize the early twentieth century. Many of the most famous individuals in the world of art will learn from them and utilize some part of this exposure into their own paintings, music, poetry, literature, sculpture and any other designs involving the visual world and man's appreciation of creation and nature.
ELIZABETH SIDDAL As you enter the exhibition, it begins with the chronology of what brought these women into public view. This will introduce us first to Elizabeth Siddal. She has inspired and attracted public eyes and thoughts ever since she joined the sisterhood of the PRB. She was the first muse and eventually the wife of Dante Gabriel Rossetti. His life was perhaps the most provocative influence on the movement and also one of the most prolific. His actions related to the movement, to women and to her certainly defined nearly all of her adult life….death, and even some of her afterlife. That his first gender story in the movement involved "Lizzie" allows for much fodder to be discussed. One person, Stephanie Graham Pina, has devoted two decades to pursuing her, even beginning a blog with links in 2004. Her devotion to the movement and its women will surely reward you if time is spent meandering its many offerings. Within it you will find examples of Lizzie's work and many postings exploring her personality.
Lizzie was romanticized after her short life and tragic death. That she was involved with and married Dante Gabriele Rossetti is a major contributing factor to both. Their courtship covered a decade, yet their marriage was very brief. Within that time Rossetti was beginning his meteorite rise to fame, as well as his exploration of the lives of many other women besides his wife's. Her death will impact him greatly, will haunt him even. How much this incident invaded his daily life for the rest of his own and what impact it had on that time has been a point of conjecture by every researching of his life. Of the many stories involving the two sexes and how the PRB dealt with this issue, perhaps no two people offered such volatility and disruption to their own lives because of what happened between the two of them in those lives.
Lizzie was discovered by the artist, Walter Howell Deverell. Deverell, born to British parents in Charlottesville, Virginia, his parents returned to London when he was two. His adulthood saw him turn to art and to enrolling at the Royal Academy. His introduction to the PRB came through his sharing a flat with Dante Gabriel Rossetti. That connection would be central to Lizzie. Lizzie was working in a milliners shop when Deverell saw her and convinced her to sit for him in his work, The Twelfth Night. It is found a bit deeper into the present show at the National Gallery, but I have included it first, as it is the initiating work that brings Lizzie to the PRB. In fact, as an historian, my rehanging of the show will reflect what was happening more or less chronologically with the ladies and the P.R.B. in the 1850s through the latter half of the century. I would have loved to have sat in on the discussions of how to hang the show. The one that won out was the grouping by person, which is logical. But, again, as an historian the more logical to me is to show a chronology. This blog will try to incorporate chronology without confusion. Yet, note, for clarity, I will also highlight each section by sister in order for one to revisit the blog at a later time and find out where one left off.
Walter was so excited he bounded into a discussion Rossetti was having with a friend and claimed he had found the most beautiful model who was precious, thoughtful and intelligent. Other later accounts of Lizzie's demeanor were not so kind, but she was certainly complex, suffered depression and illness, and sought Laudanum as an elixir and companion when the PRB…and Dante, were found wanting.
In his painting, Deverell used both Lizzie and Dante, she as the page to the left in fuchsia, he as the jester in black and gold. These are the series of details I took of the painting to enjoy.
Lizzie was part of the sisterhood, with the London models and wives in their own circle. A good friend was Burne-Jones wife, Georgina.
A note that Lizzie wrote to Georgina Burne-Jones, inviting her over after a wonderful evening the night before was kept as a loving memorial to the friend she lost:
"My Dear Little Georgie, I hope you intend coming over with Ned tomorrow evening like a sweetmeat, it seems so long since I saw you dear.  Janey will be here I hope to meet you. "With a willow-pattern dish full of love to you and Ned,   "Lizzie"
How much of Lizzie's demeanor was related to her relationship with Dante Rossetti is still open to question. For ten years he played with her affections, lived with her, left for work in Oxford, while she also took breaks. She was supported by Rossetti when she said she wanted to learn to paint. Her health suffered over the time of their relationship, with one particularly severe downturn spurring Dante to propose and marry her.
The most famous canvas with her as the model was by Millais, when he captured the moment in Hamlet when Ophelia drowns herself. The exactitude with which Millais rendered this work from nature took two junctures; One in a field next to a river and the other in his studio (it is delightfully analyzed by the staff of the Tate, where it hangs today), where Lizzie posed in a heavy dress in a metal bathtub heated by candles. The story goes that Millais became so engrossed he did not notice the candles burning out. Lizzie patiently posed, not to inconvenience the artist, but caught a serious fever that turned to pneumonia.
After nearly a decade of a tumultuous affair, during which Rossetti often became involved with other women, Siddal broke off their relationship and pursued her own independence at Sheffield. It was a result of this that she earned some success as an artist on her own. She and Dante resumed the troubled arrangement of living with each other, while he would spend periods with mistresses. These years were surely some of her most personally troubled ones, though worse would follow.
When she became particularly ill, Rossetti proposed and they married. He wrote some of his most impassioned poetry because of his feelings for her. She became pregnant, but delivered a stillborn child. The depression that followed was deep and paralyzing. Lizzie's use of laudanum increased. Rossetti was still philandering even then and it is speculated that this was instrumental in her demise. The marriage lasted only a brief two years. Lucinda Hawksley describes the time of Rossetti and Lizzie's marriage in Lizzie Siddal:  The Tragedy of a Pre-Raphaelite Supermodel:
Following the loss of her child, Lizzie was permanently altered.  She would sit in the drawing room for hours without moving her position, just staring silently into the fire.  If there was no fire, she would simply stare into space, apparently not seeing anything in front of her.  Once she refused to eat and became increasingly emaciated.  The nurse hired as a maternity carer was living with them and taking care of her, but Lizzie was too wrapped up in grief to be aware of anything except her loss.  When Ned [Burn-Jones] and a heavily pregnant Georgie [Burne-Jones] came to visit her, Lizzie was in her room alone, staring at the empty baby's cradle, which she would rock tenderly from side to side as though soothing her daughter to sleep.  As the door creaked open she looked up and told them to be quiet so as not to wake the baby.  The pregnant Georgie found this heart-rendingly sad; Ned thought Lizzie was being ridiculously over-dramatic.
After Lizzie died, Rossetti's life, too, was altered. He buried his poetry inside Siddall's coffin professing never to write again. Yet, this was Rossetti. Though his passion for Lizzie did not abate, he quickly found solace in his entourage of female companions. After some years, he found that he needed the poetry and sought permission, which was granted, for him to exhume the body from its grave in Highgate Cemetery which allowed him to retrieve the works.
This act has contributed to the myth of Lizzie, too. It was rumored that she was perfectly preserved and that her hair had grown during death to fill the coffin. This myth still lives. So, too, do the various descriptions of what kind of person she really was. There are contradictory versions for us to sample. Also problematic is the history of the reason for her death. Was it illness, murder or suicide?
CHRISTINA ROSSETTI was a strong figure in
the P.R.B.. She was sister to Dante and his brother, William, and had other siblings that were not as involved, but her family was a focus of her life throughout her time on earth. It seems to be more influential in defining her than the outside world she encountered. She is the most singularly insular individual of the fourteen I have read about and a most strong personality. This drawing of her was done of her at the age of 16 in 1846 by her brother, Dante. It was completed to mark the date of her first series of poems, Verses, composed between the ages of 12 and 16.
My first painting for Christina is the one she models first for Rossetti. It is the Girlhood of Mary Virgin, painted in oil in 1848-49. It will be this painting that launches both the career of Dante and the first usage of the initials P.R.B.(found in the lower left accompanying the signature and date of 1848)  Note the painting's analysis in this link as well as in the video clip link below.
As the London show opens, there is one painting that is central to the P.R.B. foundation. It was painted by Dante also using his sister as the model for the Virgin Mary in the Ecce Ancilla Domini. His brother posed for the Angel Gabriel (shown naked under his robes). The analysis of this painting places it in a very provocative place, as it also became known at this point (almost certainly leaked out by Rossetti himself) the meaning of the initials, P.R.B.. To have a secret, rebellious group in this tumultuous time and to allow the public to think the group may contain subversive Catholic sympathies, and that these young men were so critical of the Academy and all that British art stood for, worried the conservative portion of the public that they supported revolution….perhaps even a violent one. The knowledge of the initials' meaning unleashed such a backlash it damaged the group's dynamic. This video clip of the analysis is particularly wonderful.
Christina was an accomplished poet. She loved fantasy and wrote a story-poem collection published in 1862 called the Goblin Market. Her brother did some of the major illustrations and this work brought her permanently into the public forum. You might be interested to know that In The Bleak Midwinter, first published as a poem, Christmas Carol, has be selected as one of the most significant songs for Christmas once it was put to music by several composers, with Gustav Holst the most famous. If you wish to listen by reading along with the music, it is posted below…
For Christina to be understood fully, and she has presented a very ambiguous persona to the world since her death, it seems focusing on her religious beliefs and decisions gives us the best understanding of what was most important to her. She never married, but was engaged and had strong feelings for other men during her life. Though some put her on a feminist pedestal today, that would be misguided. That she was precocious is undeniable; some of her best poetry was completed in her teens. That she was attractive and must have had to negotiate that fact in the Victorian male world is apparent. That she was friends with J.M. Whistler, Lewis Carroll and Ford Madox Brown demonstrates her appeal to the aesthetic giants of the time. Lewis Carroll loved the Goblin Market so much it is assumed it influenced his own ideas with Alice through the Looking Glass.
Her religious beliefs were strongly influenced by the Oxford Movement that had begun about the time of her birth. This movement had a great influence, continuing to this day, of redirecting the actions of the Anglican Church. For Christina, it defined her. She ended her engagement when her fiancée, James Collinson, reverted to Roman Catholicism and support of the Papacy, though, if you look into the Tracterian's doctrines, there was so much that overlapped in their beliefs with the Medieval Roman approach to religion. That he took the full measure of Catholicism was too much for her demonstrates the importance of the religious issue in Europe during the Victorian Era. (Note that the Pope in 1870, due to the conflicts between Rome and Germany in particular will declare the doctrine of Papal Infallibility). She tempered her own life and worried if she took too much pleasure in any one thing; she gave up chess because she loved winning so much and wouldn't listen to Wagner's Parsifal because of the inclusion of pagan rites. Her brother Dante must have caused her great concern throughout his many dalliances. The time when his mental state failed did put much strain on her, though she stayed by his side throughout his travails. That she was a person of conviction is certain.
JANE BURDEN MORRIS  Jane Burden was born the daughter of a stableman and a laundress, and therefore was destined to follow in a working class life of her own had not she come into the P.R.B. sphere.  Jane's life changed forever, though, one evening while she was out at the theatre in Oxford. It was there that she was spotted by Dante Rossetti and Edward Burnes-Jones. The two had recently been commissioned to paint the murals around the ceiling of the new Oxford Union. The two had recently become friends with Rossetti's move to Oxford for employment at John Ruskin's art school. It was also at this time that he met William Morris, friend of Burnes-Jones, who was also involved in the Oxford Union commission. Their collaboration was instrumental in Morris beginning his own company and starting the Arts and Crafts Movement. Janey will be central to this throughout her life.
Though not quite sold on the prospect of modeling for Rossetti and ditching the first appointment, a chance meeting on the street with Burnes-Jones and his insistence in confirming a second appointment led to a lifetime of being the prime muse of the Pre-Raphaelites for Janey. She will marry Morris, though not really in love with him, be attracted to and involved with Rossetti as lovers for a significant amount of time, be mother to two daughters by Morris when the marriage was in its best state while living at The Red House, and become an accomplished artist and participant in Morris's business ventures. She and her daughter, May, were also central to the socialist movement Morris spearheaded in the last half of his life. During all this, she was friends with many of the other sisters of the Pre-Raphaelite Brotherhood and evolved into an adept socialite who mixed with the aristocrats of the time and led discussions on topics of the day when in group settings. Any description that claims her demurring and reserved are surely misguided.
During the time Morris and she lived at their new home,The Red House, she learned the skills of embroidery and designed several of the decorations for the home. Many of these designs would find their way into the Morris company that he started at the time, with Jane in charge of the embroidery department of he company. She would teach her daughter, May, the skills and business acumen. Somewhere around 1865 she began an affair with Rossetti and his visits to The Red House certainly continued an infatuation he had with Janey that began that evening at the Drury Lane Theatre in Oxford so many years before. She had already modeled for him often, but not anywhere as often as would happen from this time forward.  It became known in public and therefore to Morris that there was something going on with the two, though the three managed to handle it even though it crushed Morris. Rossetti and Morris went in together on the Cotswold Kelmscott Manor that took them away from the London gossip. The Red House was sold. Jane and Dante took advantage of Morris's two long absences to indulge in the affair more discretely, though Rossetti's worsening health, continued use of drugs, other affairs and diminishing mental condition ended the affair by 1876. Morris and Dante meandered a troubled relationship until Dante's death. In the meantime, the Morrises bought another home in Hammersmith that they called Kelmscott and began one of the most prolific collaborations in business and politics for the rest of William's life.
During the time Dante and Janey continued their unusual relationship, she modeled for him hundreds of times and became the most famous model of the time- the first supermodel. She also continued modeling up into her late years, long after Rossetti died. Along the way, she taught herself French and Italian and her story might have been the inspiration for Liza Dolittle. After the death of William, she entered into an affair with Wilfrid Blunt that continued for some time. The couple remained good friends until his death. Janey was a force in English society and within the Brotherhood and Arts and Crafts Movement. She is buried near the Kelmscott Manor.
GEORGINA BURNE-JONES comes from a distinguished family. Her sister Alice married Edward Poynter, a painter who eventually became Director of the National Gallery and, later, President of the Royal Academy.  Their sister Louisa gave birth to future Prime Minister, Stanley Baldwin, and another sister, Alice, was the mother of Rudyard Kipling. Georgie, as she was known, married artist Edward Burne-Jones. Judith Flanders recently wrote a book about the MacDonald sisters; A Circle of Sisters: Alice Kipling, Georgiana Burne-Jones, Agnes Poynter, and Louisa Baldwin.
Though Georgie's deeply religious parents influenced her early life greatly, during that time she knew Edmund (Ned) Burne-Jones and found him a great friend. He eventually proposed and they entered into a long engagement. It was at that time that she met the other characters in the P.R.B.. It would be an awakening that also defined her:
"I wish it were possible to explain the impression made upon me as a young girl whose experience so far had been quite remote from art, by sudden and close intercourse with those to whom it was the breath of life.  The only approach I can make to describing it is by saying that I felt in the presence of a new religion.  Their love of beauty did not seem to me unbalanced, but as if it included the whole world."
Throughout the time of their engagement (she was 15 when he proposed and 19 when they married-he was 27 as a groom) and into their marriage, more time was spent with this group. She was swept up in a world of art and creativity. She was particularly impressed by Dante Gabriel Rossetti's wife, Lizzie Siddal. (Rossetti and Siddal married about the same time as Ned and Georgie). She was close friends with Ford Madox Brown and his wife, Emma, who let her live with them to be closer to Ned in London, leading to their marriage a few months later. It is Georgie's  descriptions that give us the great insight into Lizzie Siddal. See Memories of Elizabeth Siddal at LizzieSiddal.com Another friend was George Eliot.
There has been much speculation by historians and authors seeking insight into the movement and its leaders about how they all dealt with the dynamics that occurred in relationships between all of these people who were so close, met so often, talked of art and politics, and often became so much more to each other. The early years of their marriage were idyllic; they spent a summer with William and Jane Morris at Red House, working together on decorating projects. Their first child, Philip, was born on 21 October 1861. But in the summer of 1864 little Phil caught scarlet fever, and Georgiana soon contracted the disease, which brought on the premature birth of her second child, Christopher, who was also infected and died soon after. Georgiana was ill for months, and on her recovery refused to return to their old rooms where so much tragedy had occurred. The family soon moved to 41 Kensington Square, and their daughter Margaret was born there in the summer of 1866.
For a short while she pursued art, studying at a school that was then attached to the present day Victoria & Albert Museum. She did not find it satisfying and later took lessons from her friend, Ford Madox Brown. She became involved in the Morris Company while spending time at The Red House. Jane Morris directed the embroidery arm, and Georgiana was employed painting tiles. What a vibrant, tumultuous and provocative time must have been associated with those five years at The Red House! With the birth of her son Philip in October of the year she worked for Morris and Co., she gave up the art studio to become a full-time caregiver. "I remember the feeling of exile with which I now heard through its closed door the well-known voices of friends together with Edward's familiar laugh, while I sat with my little son on my knee and dropped selfish tears on him as 'separator of companions and the terminator of delights".[7] As late as 1868 she was still attempting to learn to etch but none of her work was published.
Burne-Jones had to all but give up art when her husband shut her out of the studio after the birth of their first child. "It was a tragedy," Marsh says. "She recorded in her biography of her husband, which is also a wonderful autobiography, how she sat in the other room weeping silently."
Georgiana Burne-Jones was what would today be called an activist-artist. A confidant of William Morris, they were kindred spirits who stoically endured problem marriages. "She became close to Morris as he moved into politics," Marsh says. They both believed in art for all, uniting the arts-and-crafts movement with an idiosyncratic version of socialism. She was instrumental in the founding of the South London Gallery in Camberwell, then as now a largely working-class district.
She became one Victorian Britain's first female politicians, standing as a parish councilor in her village, which she set about reforming with zeal. Her most courageous act of political protest took place in the village of Rottingdean near Brighton on the South Coast of England. At the height of the Boer War, she stitched an anti-war banner and hung it from the family home. It declared: "We have killed and also take possession." It caused such outrage that her nephew, the pro-war Rudyard Kipling, had to rush to save Georgiana from being mobbed. Sadly that piece of textile art has not survived.
In later years, Ned had a widely known affair with Mary Zambaco (see The End of the Affair). Zamboco's reaction to the public outcry of the affair was a failed suicide attempt by throwing herself off a bridge into the Regent's Canal! Of the Zambaco affair, which would sputter on for some years, Georgiana wrote to her dear friend Rosalind Howard "Dearest Rosalind, be hard on no one in this matter, and exalt no one, and may we all come through it at last. I know one thing, and that is that there is enough love between Edward and me to last out a long life if it is given us".[19]   To add insult to injury, when Edward Burne-Jones was unfaithful with the artist-model Maria Zambaco, she was allowed into his studio while his wife was not. At the same time, Georgie had a touching, yet seemingly innocent, relationship with William Morris — while his own wife was famously carrying on with Dante Gabriel Rossetti. What, indeed, did they really think and how did the morsels of public display that arose from each person's private thoughts on those actions define our own understanding of what life was like within this circle. Fascinating it is.
MARIA ZAMBACO A recent article in the Telegraph covering a new book about Ned Burne-Jones and the affair with Maria covers what is useful to this blog and the exhibit.
Excerpt from the article:
Maria's father, Demetrius John Cassavetti, a rich merchant, had died in Paris when she was still in her mid-teens. In 1861, in defiance of her family, she married another Demetrius – Alexander Zambaco, the doctor to the Greek community in Paris, who was an expert in the dermatological effects of syphilis. The marriage lasted five years.
In 1866, Maria came back to London, bringing her children and her fortune, estimated by a friend, the artist George du Maurier, at £80,000. In that same year it was "the Duchess", rich, bored, manipulative, who made the fatal introduction of Maria as a potential model to Burne-Jones. The subject for the painting was left to him and he chose an episode from the story of Cupid and Psyche.
Emotionally the damage was done. Over the next few months he made several more studies of Maria for the scene of Cupid Delivering Psyche. Years later he remembered that hers was "a wonderful head, neither profile was like the other quite, and the full face was different again". He became obsessed with Maria not only as his model and his pupil but also as his lover and muse.
What made him so susceptible? First, and very obviously, this was a beautiful woman, a "stunner" and yet more so. She was slim, exotic, with something of the animal magnetism and theatricality of the actress Sarah Bernhardt, whom she had known in Paris. She exuded sexuality.
It is not hard to see how Burne-Jones was seduced by the sexual promise she spectacularly offered. He had been obsessed by his own undesirability. His self-caricatures show a pathetic scarecrow figure, ugly, scraggy and unlovable. A painful episode with a prostitute revealed him as a booby, nervous with the fear of ridicule. Maria's flattering suggestiveness gave him sudden hope. Burne-Jones, so steeped in the chivalric tradition, had an automatic sympathy for women in distress whatever their social background: prostitutes, professional models, women of the upper class. "Two things had tremendous power over him – beauty and misfortune," Georgie tells us, "and far would he go to serve either". Maria Zambaco qualified on both counts.
By 1866, the Burne-Jones marriage was six years old and far from satisfactory. The reverent mystique of their early days of marriage had by now been worn away with all their struggles. They had two young children, Philip (b. 1861) and Margaret (b. 1866) – a third, Christopher (b. 1864) had been lost to scarlet fever at three weeks – and had ceased sexual relations in order to avoid any more. Burne-Jones viewed his failed marriage later in self-justifying terms: "After marriage both leave off trying to seem heroic to each other, and cease to take pains," he wrote. "The soul of any man or woman that is worth anything will somehow and somewhere get romance for itself."
There is no doubt that the liaison with Maria changed him. Once he had moved to Fulham and discovered the new freedom of the studio in the Grange, with Maria a semi-official visitor, his work began to flourish. Rossetti, visiting his studio in 1869, reported back to his own muse Janey Morris, "I was particularly struck with a most beautiful single figure in profile with some smaller figures by a door in the background. This I thought one of the finest things he has done." The painting that had so impressed Rossetti was Burne-Jones's watercolour Beatrice. The model for Beatrice was, of course, Zambaco. It is true to say Maria was an inspiration to him and took him to new heights of imaginative power.
Up until the early 1860s the female figures in Burne-Jones's paintings had often been arrived at by preliminary portrait studies of Georgie and sometimes of her sisters. However, at this stage Burne-Jones's models were mainly cast aside in favour of Maria Zambaco's delicate, distinctive and distinctly foreign features, her big, faintly baleful eyes, well-sculpted nose, neat pointed chin. In so many of his drawings and paintings of this period it is Maria's likeness that we see.
How far was Georgie aware of what was going on behind the closed doors of the studio? In her account of revisiting the Grange in 1899, after Burne-Jones's death, she mentions one spot "peculiarly associated with many memories – the outside of the studio door with the three steps and the little landing". It seems likely she was in that common situation of knowing but preferring not to know.
In June 1868, she found an incriminating letter in her husband's pocket, as her mother, Hannah, recorded in her diary. The sisters rallied round. To everybody else Georgie kept silent. Her instinctive reaction was to stay stoic, involve herself with household practicalities.
Maria was now putting pressure on Burne-Jones to run away with her. They could live on a Greek island, the island called Syra as described in Homer's Odyssey, reclaim her classical heritage together. When Burne-Jones refused to leave for Greece with her, Maria had "provided herself with laudanum for two at least, and insisted on their winding up matters in Lord Holland's Lane".
They walked on up the lane alongside Holland Park through a heavy London fog, Maria threatening to drink the poison, Burne-Jones hopelessly attempting to calm her down. Eventually they reached the bridge over Regent's Canal, beyond which was Warwick Crescent where Robert Browning lived. Rossetti described the scene of terrible hysteria as Maria "tried to drown herself in the water in front of Browning's house & c. – bobbies collaring Ned [Burne-Jones] who was rolling with her on the stones to prevent it, and God knows what else".
EFFIE GRAY was first involved with John Ruskin, as he had been infatuated with her for a long time and eventually married her, a marriage that lasted six years. But this disastrous marriage caused a scandal when Effie sought an annulment after those six years because of non consummation. The scandal that ensued consumed London society. Effie will marry John Millais, who was hired by Ruskin to paint his full length image while in Scotland. It was during this trip that Millais understood the predicament Effie was in and also fell in love with her. She apparently returned the feelings. After she divorced Ruskin, she married Millais and they had eight children. She lives the rest of her life as Effie Millais, though John Millais had a strange infatuation with Effie's younger sister, Sophie for a short while.
In The Order for Release, Millais, now married to Effie, uses her as the model for the wife.
FANNY CORNFORTH was born Sarah Cox, her father working as a journeyman from the lower class. The death of her sisters and mother, with the eventual death of her father cast her into employment by the age of sixteen. She was the only maid in a house of ten persons for her first job. Between this time and her twenty-first birthday, her duties to her ailing father and the remainder of her siblings occupied Sarah. 
It was on a trip to London, just after the Crimean War. Celebrations that included military parades and fireworks were taking place at  the Surrey Pleasure Gardens, at Walworth in London. It was 25th August, 1856. Also in the crowd as the evening fireworks lit up the sky were Edward Burne-Jones, Ford Madox Brown, Cormell Price and Dante Gabriel Rossetti. Rossetti, always on the lookout for a stunning model, spied Sarah with her aunt having supper at one of the arbors. Her golden hair was calf-length and proved the attraction that could not be ignored. Rossetti convinced the aunt and Sarah to visit his studio with the chance of employment as a model.
Sarah, for as yet unanswered reasons, changed her name. She met a fellow male model who would later become her husband and whose step-father had the surname of Cornforth. The name Fanny was apparently a nod to her deceased young sister. Fanny would model for Burne-Jones, Brown, Price and others, but Rossetti was the one who made the greatest claim to her. He also carried on an affair, even while he was married for the short two years to Lizzie. It was on the night of Lizzie's death that Rossetti left her at home, he thought in good humor and health, to visit Fanny. He returned to find her near death. Perhaps the most emblematic painting by Rossetti of Fanny is Bocca baciata, meaning 'the kissed mouth.
FANNY EATON was born in Jamaica  and is perhaps the most fascinating story of the sisters, daughter of an ex-slave, who came to London in her teens, where she sat for Millais and Rossetti. The money from them helped supplement her wages as a cleaner and went towards bringing up her 10 kids.
After featuring in Simeon Solomon's famous painting, The Mother of Moses, she drew the attention of other artists in the PRB circle, including Millais and Dante Gabriel Rosetti. Despite racial prejudices of the times, Fanny was described by Rosetti as having 'a very fine head' and being of 'incomparable beauty'.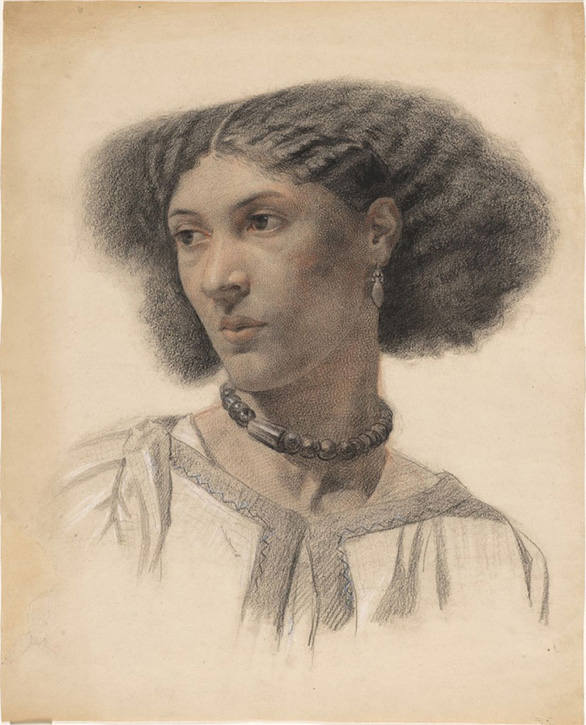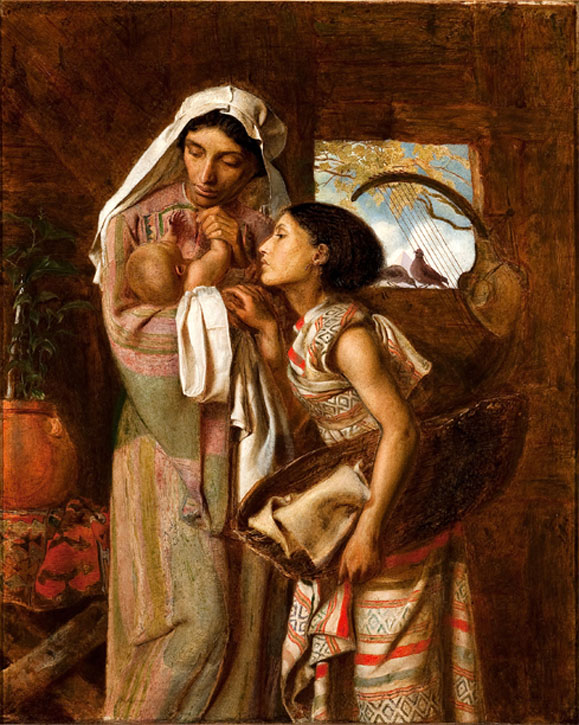 Here she is the model in The Mother of Moses, first exhibited at the Royal Academy in 1860, which marked the public debut of Eaton's modelling career for the Pre-Raphaelites. The work, which now belongs to The Delaware Art Museum, shows the maternal figure of Jochebed holding her child, and is compositionally reminiscent of depictions of the Madonna and Christ. Eaton was also painted by Joanna Mary Wells (1831–1861), a prominent female artist affiliated with the Pre-Raphaelites who often painted under her maiden name of Boyce. Boyce's exquisite portrait of Eaton in profile accentuates Eaton's beauty with refined shimmering fabric and jewellery, including turquoise beads and pearls. After the death of her partner, she raised her ten children alone.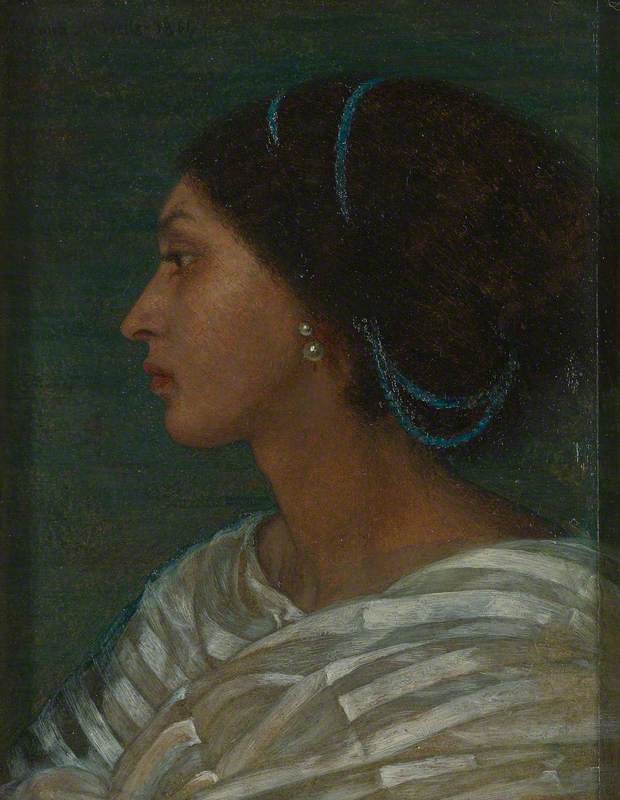 EVELYN DE MORGAN started drawing lessons
when she was 15, and from the outset was dedicated to her craft. On the morning of her seventeenth birthday, she wrote in her diary: "Art is eternal, but life is short…" — "I will make up for it now, I have not a moment to lose."[3] This diary, given up after a few months, reveals her devotion to her work. She records hours upon hours of "steady work," chastising herself for "wast[ing] time" through daily tasks like going to tea and changing her dress.[5] According to Stirling, De Morgan was interested in little other than painting, and fought hard to be considered seriously as an artist. She rebelled against any efforts to turn her into an "idle" woman, and when her mother suggested she be presented to society, De Morgan rejoined: "I'll go to the Drawing Room if you like…but if I go, I'll kick the Queen!"[5]
She became associated with the latter influences of the Pre-Raphaelites, marrying the ceramicist William De Morgan. They will join forces in pacifist efforts and in support of the Suffragette Movement. For nearly two decades leading up to the First World War, they spent part of the year in Florence. Here are some examples of her work…
JOANNA BOYCE WELLS was a superb talent that was extinguished at an all too young age. She died giving birth to her third child. Jan Marsh say of her, "it's hard to credit  how after her reluctant marriage Joanna was able to paint so much and so well at the same time as producing three children in three and a half years.  The last birth killed her, at age 29.  'English art has lost more than it knows,' wrote Alex Gilchrist, while Rossetti's comment was bitter: 'a great artist sacrificed to bringing more kids into the world' ".
Her first painting was of Elgiva, exhibited at the Royal Academy. Elgiva was an Anglo-Saxon noblewoman who got on the wrong side of Bishop Odo.  Odo had her branded on the face and sent to Ireland in exile.  Ruskin described the work in the following way: 'As we watch the face for a little time, the slight arch of the lip seems to begin to quiver, and the eyes fill with ineffable sadness and on-look of despair'. Ford Madox Brown thought the painting "the best head in the rooms".
ANNIE MILLER
Hunt returned from his travels in 1856. Ford Madox Brown described Annie as 'siren-like' and her connection with Rossetti caused a rift between Rossetti and Hunt.[2] Annie became involved with the seventh Viscount Ranelagh even though Hunt proposed to her. As a result, Hunt finally broke off the engagement in 1859. Thereafter Boyce and Rossetti competed for sittings with her with Rossetti usually winning, though this caused Rossetti's wife Elizabeth Siddal on one occasion to throw his drawings of Annie out of the window.
Shifting from Annie Miller to Fanny Waugh
Il Dolce Far Niente is a painting by William Holman Hunt that was first modeled by Annie Miller with her face replaced by that of his wife, Fanny Waugh. Fanny Waugh was the daughter of a wealthy chemist in London. She was 32 years old when in 1865 she married the painter William Holman Hunt, who was 38 at the time. William Michael Rossetti was best man at the wedding.
In 1866 the Hunts left England to go to the Holy Land where Hunt wanted to visit Biblical sites for his painting. Fanny was seven months pregnant and her father didn't like the idea of the journey at all. In Florence they were confronted with a ban on Italian ports and they decided to stay in Florence.
Hunt used his pretty pregnant wife as a model and she was forced to stand for hours. She modelled for "Isabella and the pot of Basil" (below). she gave birth to a son on 27 Oct 1866 but it was a difficult delivery and she was in pain afterwards. She contraced a fever and died on 20 Dec 1866. Their son Cyril Benoni survived. She was buried at the English Cemetery in Florence where her tomb was sculpted by Hunt. Nine years later he married her younger sister Edith. This was forbidden in Engeland at the time and they travelled abroad in order to be married.
MARIE SPARTALI STILLMAN was a superb artist who is best represented in this site. In her late teens, Marie associated with her cousins Maria Zambaco and Aglaia Coronio, who became collectively called The Three Graces for their beauty and grace. In 1863, they became known to Whistler, Swinburne, and then members of the Pre-Raphaelite movement, and were frequently used as models for their paintings. In 1864, after chaperoning her sister when modelling for Whistler, she started as a pupil of Ford Madox Brown, and for two days each week he taught her in his studio. This site is also most useful in three parts, part II and part III. A collection of some of her paintings is below in a slide show.
After meeting William Stillman, a minor painter and widower with three children, she fell in love and became engaged. Although opposed by her father, in 1871 Marie and William married in Chelsea Register Office, London, following which they celebrated their wedding breakfast in Ford Madox Brown's house. They spent six weeks of the summer in New York and Boston, where William was reunited with his children. The following year, their first child, Euphrosyne ('Effie') was born, and her parents welcomed them into a small cottage near the family home on Clapham Common. Her husband had difficulty in obtaining work, and Marie had to run the household and bring up their family; in spite of those heavy demands on her time, she maintained her painting output.
In 1872, Marie paid her first visit to Kelmscott Manor, near Lechlade in Gloucestershire, England, where William Morris and Dante Gabriel Rossetti were driving forward the new derivatives from the original Pre-Raphaelite Brotherhood, including the Arts and Crafts movement. Marie remained good friends with the Morrises and Rossettis thereafter.
This slideshow requires JavaScript.
Marie continued her modeling throughout her life. Marie undoubtedly modelled for the painting below, and appears to have assisted Edward Burne-Jones (1833–1898) in the making of The Mill (1882) in oils. The three dancers were modelled by the Three Graces: Maria Zambaco, Marie Spartali Stillman, and Aglaia Coronio (from left to right).
This slideshow requires JavaScript.
This slideshow requires JavaScript.
This slideshow requires JavaScript.
After the First World War – in which two of her cousins died – Marie resumed painting in earnest, and continued to paint actively until shortly before her death. She visited the US again in 1923, and died in London in 1927. She was probably the last survivor of the Pre-Raphaelite movement.
The first years of the PRB and the founding male artists' quest for great beauty found for them a fabulous collection of women whose sisterhood evoked the rebellious nature of gender issues of the Victorian Age. That age was filled with revolts throughout Europe, a growing sense of feeling disenfranchised by the upper class and aristocracy by the working poor, the dehumanizing nature of industrialization even as it added to the world's progress in so many things, and the growing conflicts between European nations as they sought to gain greater sovereignty in that world. The growth of science threatened Christian dominance in England, which was central to much the PRB stood for, as well as the movements aspirations to seek knowledge and
Other useful links
The Pre-Raphaelites: Their Lives and Works in 500 Images
Pre-Raphaelite Sisterhood by Jan Marsh
The Art of the Pre-Raphaelites by Elizabeth Prettejohn
Reading the Pre-Raphaelites by Tim Barringer
The Cambridge Companion to the Pre-Raphaelites
The Last Pre-Raphaelite: Edward Burne-Jones and the Victorian Imagination by Fiona MacCarthy
William Morris: A Life for Our Time by Fiona MacCarthy
Dante Gabriel Rossetti: A Biography by Jan Marsh
The Rossettis in Wonderland by Dinah Roe
Pre-Raphaelites: Victorian Art and Design
http://moorewomenartists.org/marie-spartali-stillman/